Yoga NBR 15 Mat sports pad violet

Yoga NBR 15 Mat sports pad violet
The pad for exercise or camping. Made of comfortable and lightweight NBR foam. Dimensions 183 x 61 x 1,5 cm, more color variants.
Read more
This product is out of stock for the foreseeable future.
Alternative products in the category NBR yoga mats:
Product description
The basic equipment of every home gym and professional gym definitely includes exercise mats. The pad Yoga NBR 15 Mat is made of durable, lightweight and pleasant to the touch NBR foam for greater comfort during exercise. The length is 183 cm, width 61 cm and thickness 15 mm. You can use the pad for yoga, pilates or other exercises. The soft material insulates well from the cold floor, so you can also use the pad for camping. The pad is easily portable thanks to its low weight (approx. 1,07 kg). We offer sports pad Yoga NBR 15 Mat in several color variants.
About the brand Merco

Under the Merco brand, we design and have our own sports equipment manufactured. Because we like to do sports, we always try to improve the training equipment by some practical gadgets. We focus on affordable sports equipment for gyms, schools, sports clubs, leisure activities, fitness and home workout.
Merco is a popular brand on the Czech market, especially for its excellent price-performance ration of sports equipment.
| | |
| --- | --- |
| Manufacturer | Merco |
| colour | violet |
| length | 183 cm |
| material | NBR |
| width | 61 cm |
| country of origin | China |
| inflatable | no |
Reviews
Recenze
(1x hodnoceno)
Arithmetic mean of the 1 rating given.
Product articles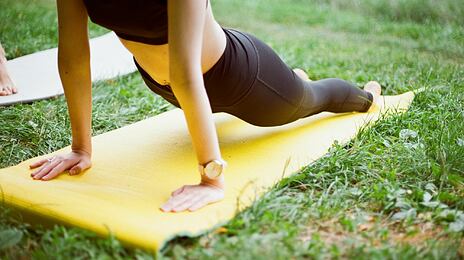 Blog
A practical guide on how to choose a suitable exercise mat. In the article, you'll learn what you should consider when making your choice, what selected types of mats there are, and other tips that are good to know when choosing the perfect mat for you.
Entire article
Delivery to all EU countries
One of the Czech largest e-shops
Special training equipment