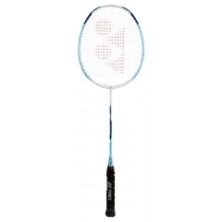 Badminton equipment
Badminton is the 5th mostly played sport in the world.
Since 1992 it has been an Olympic sport. 
Badminton is a racket sport played using rackets to hit a shuttlecock across a net. Although it may be played with larger teams, the most common forms of the game are "singles" (with one player per side) and "doubles" (with two players per side). Badminton is often played as a casual outdoor activity in a yard or on a beach; formal games are played on a rectangular indoor court. Points are scored by striking the shuttlecock with the racquet and landing it within the opposing side's half of the court. Unlike tennis, the ball does not bounce after it hits the ground, but is played directly from the air.
At our shop you will find complete equipment for badminton, from balls, rackets, all their accessories, stringing machines, to badminton clothing or nets and floors for badminton court equipment. We offer a collection of equipment from leading global manufacturers such as Victor, Carlton, Yonex and Wilson. We ourselves are manufactures and suppliers of the Merco brand, which has become a leader on the Czech market in recent years.
Sort Recommended: Products are listed by product name in ascending order. Out of stock products are listed at the end. In this section, some items are set to be placed at specific positions.