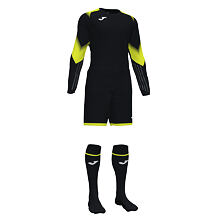 Set of goalkeeper jersey and shorts
The right equipment is essential for every goalkeeper. In this category you will find complete goalkeeper kits. Included in the package are shorts, jersey, or stockings in different colours and sizes. They are designed for all ages and performance levels of goalkeepers. Special padding on the elbows and shorts ensures comfort and better protection during interventions. The kit can be printed with name, number and logo. 
Sort Recommended: Products are listed by product name in ascending order. Out of stock products are listed at the end. In this section, some items are set to be placed at specific positions.