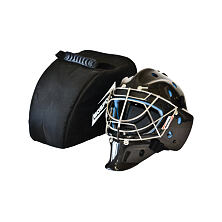 Equipment for ice hockey goalkeeper
Goal keeper plays important part in the ice hockey - he needs specific equipment to be able to catch all shots. The parts of the equipment must be not only blockers, catching gloves, hockey sticks and skates. The goal keeper is exposed to big physical predominance and pressure when several forwards try to get into his field. The flying puck has huge penetrative power. That is why the body and head of the goal keeper must be extraordinarily well protected. Goalie pads, pants, skeletons and also masks and grilles on the helmet can prevent from injury effectivelly. All equipment must also meet the requirements of player's good movabilty and his comfort during the long playing time. 
Sort Recommended: Products are listed by product name in ascending order. Out of stock products are listed at the end. In this section, some items are set to be placed at specific positions.