The new school year is coming! Have the right sport's equipment ready.
Movement is an inherent part of a healthy lifestyle and is essential for the right development of children. The school gym should not be a place of resistance for children, but a place of fun and enjoyment of sports. We have prepared a list of equipment that should not be missing in school gyms, selected sports clubs or sports grounds. In our article you will find out what equipment and gym tools to buy. We will also mention what its uses are and we will not forget about any components that go with them.
Basic sport equipment
SPORT MATS
Sport mats are necessary equipment for school gyms and sports grounds. Thanks to the mats, you will increase the safety of practitioners and reduce the risk of injuries when performing gymnastic elements such as jumps, rolls, somersaults and all exercises with impact. The characteristics of the mats should be primarily slip resistance, sufficient flexibility and impact absorption.
When choosing a mat, consider not only its dimensions, but also its storage and handling options. Our e-shop offers various designs of impact and gymnastic mats. For example, you can choose folding mats, different weight mats, multi-part mats, mats with reinforced corners, mats with or without handles, etc.
Components: springboards, Swedish boxes, ladders, gymnastic goat. If you have mats to ensure safe impacts, you can purchase equipment for push-ups, pull-ups, etc. as an additional...
AIRTRACKS
Airtrack mats provide multifunctional use, both in the school gym and in the gymnastics club. These inflatable mats are a professional tool for training not only gymnastic and acrobatic elements, but also martial sports such as judo, karate, muay thai and others.
Components: the airtrack includes an inflatable pump or compressor, which you use to inflate the mat. You might also need a foam coupler to connect multiple airtrack mats together, or an airtrack adhesive kit to repair the airtrack if it breaks.
JUMPING ROPES
To improve the physical condition of pupils, gym teachers and coaches can use skipping ropes. This simple, portable and affordable tool should certainly not be missing from gyms and sports facilities. Buy longer jump ropes - children can more easily adapt them to their height.
CLIMBING ROPE, GYMNASTIC RINGS
Climbing ropes and gymnastic rings are other compulsory equipment in school gyms and sports grounds. They are used to test the strength of children, young people and adults. Mastering the climb is often a compulsory discipline in physical education classes. Gymnastic rings are a relatively more demanding discipline due to their instability. On the rings, one can train push-ups, push-ups, pull-ups, pull-ups or somersaults, similar to the barre.
MEDICINBALS
Medicine balls can be used as a weight training aid for physical fitness. Medicinball is a good tool for circuit training or for strength tests and youth training. Take a look at our e-shop where we offer different designs of medicine balls - rubber, plastic, leather or also for example the Wall Ball, which is directly designed for throwing.
Team sports
BALLS
Ball games are usually a favourite activity with pupils. Choose suitable balls according to the type of sport they will be used for. In our e-shop you can find balls for volleyball, basketball, football or handball. Also choose according to whether you will use the balls outdoors or indoors in the gym. The balls are material designed either for indoor sports or for outdoor sports. The size of the ball can be another criterion for selection. For example, with a basketball, you choose the size according to the age of the children. For volleyball matches, the ball has clearly prescribed parameters - for example, you can buy a Dynamic volleyball from Merco for school purposes.
Components: The balls for the whole class are difficult to carry, so we recommend that you can buy suitable net or cart for the balls for easy carrying. It is also a good idea to get a compressor for inflating balls as another piece of equipment.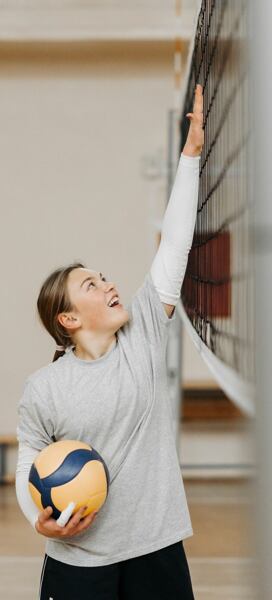 GOALS AND NETS
Outdoor and indoor goals for football, floorball or net baskets for basketball, volleyball, netball and badminton nets. We offer equipment suitable for these sports and training of children and youth. The types of goals differ in size, construction and use. For easy transport and storage you can choose folding goals. Get inspiration from our e-shop on which goals might be right for you. Choose nets similarly to goals, especially according to the purpose for which the sport will be used. They differ in size and type of fastening. Also choose nets according to the expected level of load, which differs for recreational sports, physical education classes or tournaments and matches.
Components: frequent use wears out the network. It can break with use and it can be helpful to have spare nets in reserve. You can then easily replace the net in the fixed structure of the goal or hoop basket without buying new equipment. Be careful to get the right size so that the net fits well in your goal.
DIFFERENTIATORS
A practical tool - the "differentiator" - ensures a clear division into teams. These are lightweight distinctive T-shirts. Children can wear the distinctive dresses during tournaments or any other team game, divided into rival teams.
FLOORBALL HOCKEY STICKS AND BALLS
Specific hockey sticks are used for floorball. Merco floorball sticks are ideal for schools and sports clubs. With their help, you can train not only floorball, but also improve gross motor skills and observation in children and adolescents. When choosing, it is important to choose a size and shape that will suit the laterality of the individual (right or left-handed). We also offer floorball balls for recreational training and official competitions.
BADMINTON RACKETS AND BALLS
Badminton is a fun sport that you can use to spice up your pupils' PE lessons. Its advantage is that it can be played indoors in the gym and outdoors on the court. Badminton rackets are specific in their shape. The badminton ball is in the shape of a small basket, which is available in plastic or feather version. For schools and recreational athletes, a plastic ball is quite sufficient. Badminton balls are lightweight and bounce easily with the bat, so even younger children can master this sport and practice their perceptual and motor skills.
AGILITY SETS
To make your training and PE lessons more varied, you can use aids to help you mark the station, start and finish, or perhaps add an obstacle course. Agility aids are equipment suitable for improving endurance, developing strength, speed and coordination. These include cones, metas, coloured markers, obstacle ladders, adjustable hurdles or balancing mats, for example. Create an obstacle course for students with agility equipment where they can practice with a ball or improve their coordination.
Components: you can buy stands or bags to carry your agility equipment, which will make it easier for you to handle and carry it and, most importantly, protect it from damage.
---
TIP: For measuring distances, for example in long jumps and other athletic skills, a tape measure is the ideal tool. Athletic bands usually have a holder for a comfortable grip and are practical equipment not only for athletic disciplines in outdoor and indoor sports venues.