Paddleboarding is a water sport in which a rider on a large surfboard, similar to a surfboard, uses a long paddle to move forward. Paddleboarding is sometimes abbreviated as SUP (Stand Up Paddle). In this sport, one engages the whole body evenly, improving one's sense of balance and physical fitness. Paddling helps to engage a large group of muscles - the calf muscles in the legs, the back and oblique abdominals and all the muscles in the arms.
Choosing a float (paddleboard body)
Floats are chosen according to the purpose and water the rider will be paddling on. This can range from fitness riding on rather still, calm waters, to riding waves and wilder waters, to speed paddleboarding on long, narrow floats. Floats come in two types on the market, either fixed, which are designed primarily for competitive riders and are priced in the higher end of the range, or inflatable, which are more compact and are the most suitable choice for casual paddleboard users.
In our e-shop you will find inflatable paddleboards with a capacity of up to 180 kg and also a giant paddleboard for a group of up to 10 people.
Choosing a paddle
The range of paddleboard paddles available ranges from regular, recreational paddles for beginners to racing paddles for more demanding athletes. Paddleboarding paddles are either suitable for riding waves or for standing still water. The best choice for recreational athletes and a compromise between these two types are length-adjustable paddles, which allow you to adjust the length to the rider's needs. In addition, this way several people in the family or circle of friends can borrow the paddleboard and everyone will have the right length thanks to the adjustable paddle.
The correct length of the paddle is the basic rule for its proper use. In general, the paddle should exceed its owner by approximately 10 to 30 cm. The width of the paddle blade ranges from about 15 to 25 cm. Smaller blades are more suitable for women and children, wider ones for longer rides or faster paddling. When choosing a paddle, also consider its weight - with a heavier paddle you will have to put more effort into paddling.
---
TIP: Paddleboards are most often ridden standing up. This is also the best way to train your stability on the board. However, if you don't feel up to it or are afraid of incoming waves, it is also possible to kneel or sit on the paddleboard. This will lower your center of gravity and make the float less wobbly. True masters of balance practice on paddleboards - for example, yoga or strength and balance exercises. However, paddleboards are designed to be slightly wider, which provides more stability.
---
Types of paddleboards (by shape)
ALLROUD
the best selling paddleboard shape
a board "for everything" and suitable for fitness paddlers
sufficient stability
the size is selected according to the user's weight
length 300-335 cm
width 75-85 cm
thickness 15 cm
displacement 200-300 l (selection depends on the weight of the user)
TOURING
suitable for longer rides on calm water
they are straight, long and have a narrower peak 
better directional and faster
lengths around 330 cm
width 75 cm
thickness 15 cm
displacement 300-350 l
suitable for speed riders
ALLTOUR
brand new model
combining all-around stability and touring speed
satisfies beginners and more advanced riders alike
length around 300 cm
width just over 80 cm
thickness 15 cm
displacement is approx. 300 l
if you attach the 2W seat we offer to this type, the paddleboard can also be used as a kayak with a kayak paddle
WAVE
more bent
suitable for riding sea waves
length 260-300 cm
width around 70 cm
thickness 10 cm
displacement ranges from 80 to 180 l
RACE
the longest model
very narrow and also wobbly float
suitable for "racing" paddling
for more experienced riders
length 380-420 cm
width 60-70 cm
displacement around 320 l
YOGA 
designed primarily for water exercises (mostly yoga)
has a specific shape and position of the handles
has soft foam all around the float
slightly wider than other paddleboards
better stability when exercising
paddle grips around the perimeter of the float
thick12 cm
width around 90 cm
length 280-330 cm
displacement around 300 l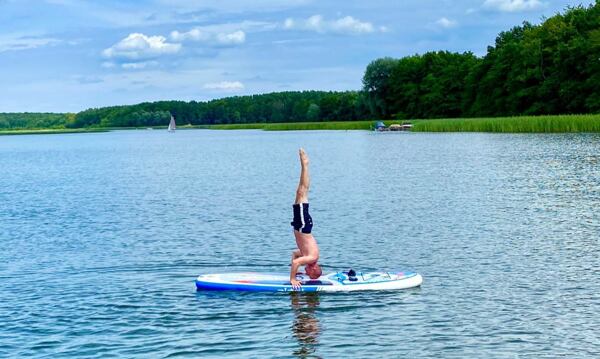 Accessories for paddleboard
Kayak seat
The seat is used when paddleboarding in a sitting position (like a kayak). If you want to enjoy the ride to the fullest while enjoying the surroundings, the paddleboard seat is the right solution for you. You can quickly and easily attach it using the sturdy straps with hooks - these hook into the loops on the float. Please note: if the paddleboard does not have eyelets around the perimeter of the float, the seat cannot be attached to it.
Replacement fin
Thanks to the fin, which improves stability and maneuverability, you will have more control over the paddleboard. From time to time, you may run your paddleboard into a large rock or shallow water and damage/loss the fin on the underside of the float. Therefore, there is nothing easier than to get a spare fin and replace it in case of an "accident".
Anti-float safety strap
If you are worried about your paddleboard floating away after a fall into the water, you can use an elastic strap that you attach to the float with one end and to your ankle with the other. The strap is long enough and will not restrict you in any way, on the other hand it will not let the paddleboard float too far away from you.
Waterproof bag
As protection for personal belongings (cell phone, keys, wallet) or dry clothes, you can use waterproof bags that you simply clip to your calf, arm or back like a backpack. They work on the principle of rolling up the top side and then fastening with a buckle. This prevents water from getting into the bag, even when briefly immersed in water. Take a paddleboard bag on a paddleboard ride and your valuables will always stay dry.
                 Paddleboard anti-float strap
Compressor/ pump
The paddleboard needs to be inflated to the right pressure to function properly and to support the weight of its user. The fastest way to inflate is clearly with a compressor, which inflates the float in a few seconds. However, a compressor will be useless if you find yourself near water or in a place where there is no electricity. That's where a hand pump comes in (it must have a valve to inflate a mattress, airtrack or paddleboard), which you can also use, although it takes a bit longer.
Glue kit
The best way to prevent damage to an inflatable paddleboard is to avoid sharp edges and objects. There's also the danger of rocks lurking in the water, so if you do happen to get a hole in your float, reach for a glue kit. This includes patches, glue and a replacement valve.
life jacket
A quality life jacket is a must for children and beginners in paddleboarding. Other users may or may not wear it at their discretion and swimming ability. The vest will ensure that even after falling into the water, the body is buoyant near the surface. Some athletes also take their canine companions on a paddleboard ride - there are dog life jackets for them too.
Water shoes
Water shoes are most often made of neoprene and have a rubber sole with a pattern. They prevent slipping, are a suitable protection against possible foot or ankle abrasion and in colder weather, the float will not cold your feet. Water sports shoes should be chosen so that they do not restrict your movement and you can keep your balance on the float.
---
Tip:
If you like to spend time with your dog and you also like paddleboarding, you can combine these two activities.
For paddleboarding with a dog, longer paddleboards that are not so wobbly are suitable. Of course, it's a good idea to try out paddleboarding with your animal in the shallows before going deep or longer.
Do you like this idea, but your dog is not too fond of swimming? You can get him a dog vest that will give him courage while paddleboarding and you don't have to worry about his safety. Thanks to the fact that the dog swimming vest has a strap on the back, you can help your dog climb on the paddleboard even from the water.