Mafate Speed 3 W women's shoes FFBT
Mafate Speed 3 W women's shoes FFBT
One of the best trail models for running on technical terrain. With Vibram® Megagrip technology for maximum traction.
Read more
Product description
A rugged trail contender that performs expertly on technical terrain, the Mafate returns for its third iteration, featuring a sustainable mesh upper made from recycled polyester. Engineered with KPU molded overlays for protective support, the Mafate Speed 3 is grounded in the same aggressive, dual-density outsole comprised of EVA and rubberised EVA with Vibram® 5mm lugs. Designed with a dynamic, textile tongue for stretchy, foot-hugging comfort, this trail beast is equipped with a breathable, perforated section at the tongue and fortified with H-frame construction at the eyerow for a customised fit. When the trail gets technical, the Mafate Speed 3 steps up to handle what nature puts in your path.
The Mafate Speed 3 features a symmetrical bed of cushion without additional prescriptive technologies. Designed to provide the support you want and nothing you don't.
The Mafate Speed 3 is designed to provide protective cushion while maintaining a responsive toe-off for when you want to go faster.
- Geometry: 31 mm heel, 27 mm forefoot
- Breathable, dynamic sandwich mesh
- Gusseted tongue prevents migration across the instep
- Lightweight, compressed EVA midsole provides comfort
- Vibram® Megagrip hi-traction outsole compound
O značce Hoka One One
The French brand Hoka One One was born in the minds of two sports enthusiasts, Jean-Luc Diard and Nicolas Mermoud. Both are lovers of adventure and running. They have extensive experience with various running routes around the world. Both founders acknowledge the idea that a runner should feel free, whether he is running in nature or in the city. Fatigue, muscle tension and problems associated with this, runners solve every day. Jean-Luc and Nicolas started working on a shoe that would largely eliminate these problems and the pleasure of running could be unlimited.
Hoka produces both low-profile and max-cushion shoes for road, trail, and all-terrain; throughout its product line, Hoka shoes retain features like a low weight-to-cushion ratio and midsole and outsole geometry designed to promote inherent stability and an efficient stride.
| | |
| --- | --- |
| Manufacturer | Hoka One One |
| colour | bordeaux |
| surface | terrain |
| grip | 5 mm |
| volume of outsole | ultrasize |
| drop | 4 mm |
| country of origin | Vietnam |
| distance | long |
| gender | women |
| performance | competitive |
Reviews
Recenze
(1x hodnoceno)
Arithmetic mean of the 1 rating given.
Články k produktu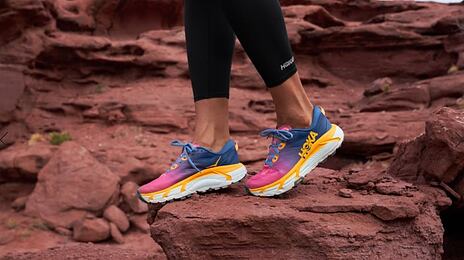 Blog
What to look for when choosing running shoes? In this article, you will learn what types there are and what role the parameters of your foot play in choosing running shoes.
Celý článek
Delivery to all EU countries
One of the Czech largest e-shops
Special training equipment