Huaka W women's shoes grey
Huaka W women's shoes grey
Women's model of shoes for light and fast running on the road and easy terrain. This model offers a high level of damping and low weight.
Read more
Product description
Huaka is probably the most versatile shoe from Hoka One One. Huaka is applicable to road and light terrain and that is why they are so popular among triathletes.
Huaka shoes have Oversize midsole volume.
Volume of cushioning material is 1.5x R-Mat and even with these values the shoes hold great weight characteristics. The shoe weighs only 239 g - 8UK (42 EUR) or 202 g when it comes to ladies 6UK (37 1/3 EUR)
Meta-Rocker shoe shape, with a 2 mm drop. "K" Shape has a reinforced internal wall of the shoe and it increases the dynamic stability of the shoe. There is 72mm in the heel and 25 mm in the forefoot.

The outsole has a 2 mm grip, to ensure a maximum comfort of movement on the road. The outsole is made by R-Mat technology. It is made almost entirely of a single piece of material, and only a few parts of the sole are added extra. Thanks to this the shoe excels in adhesion.
2 mm breathable Ortholite sole with anti-bacterial and anti-odor functions.
The top layer of the shoe is breathable synthetic mesh.
This model is equipped with a special fast lace tightening, which secures great comfort and perfect fit of the shoe. Classic laces are also included.
About the brand Hoka One One

The French brand Hoka One One was born in the minds of two sports enthusiasts, Jean-Luc Diard and Nicolas Mermoud. Both are lovers of adventure and running. They have extensive experience with various running routes around the world. Both founders acknowledge the idea that a runner should feel free, whether he is running in nature or in the city. Fatigue, muscle tension and problems associated with this, runners solve every day. Jean-Luc and Nicolas started working on a shoe that would largely eliminate these problems and the pleasure of running could be unlimited.
Hoka produces both low-profile and max-cushion shoes for road, trail, and all-terrain; throughout its product line, Hoka shoes retain features like a low weight-to-cushion ratio and midsole and outsole geometry designed to promote inherent stability and an efficient stride.
| | |
| --- | --- |
| Manufacturer | Hoka One One |
| colour | grey |
| surface | asphalt |
| grip | 2 mm |
| volume of outsole | oversize |
| drop | 2 mm |
| distance | medium |
| gender | women |
| performance | intensive training |
Reviews
Product articles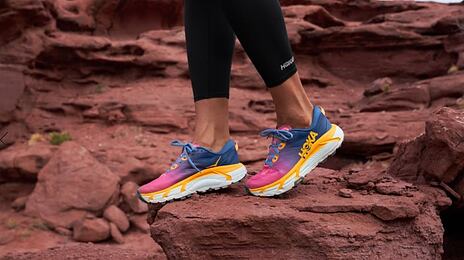 Blog
What to look for when choosing running shoes? In this article, you will learn what types there are and what role the parameters of your foot play in choosing running shoes.
Entire article
Delivery to all EU countries
One of the Czech largest e-shops
Special training equipment