Clifton 9 men's shoes BBDGB
Clifton 9 men's shoes BBDGB
The most popular shoes for the road and paved paths. The ideal combination of low weight, comfort and support.
Read more
Color variants
Product description
Disruptive performance for everyday (s)miles The ninth iteration of our award-winning Clifton franchise has launched, lighter and more cushioned than ever before. Eliminating weight while adding 3mm in stack height, the new Clifton 9 delivers a revitalized underfoot experience with a responsive new foam and improved outsole design. Removing overlays and hotmelts, the stripped back upper has been consciously crafted with a plusher heel, reflective heel panel, and streamlined tongue with single side medial gusset. The Clifton 9 has a 5 mm drop with 32 mm of cushioning material under the heel and 27 mm under the toe. They feature improved heel reinforcement for easier donning and increased support. Push your limits and make your training more enjoyable with Hoka One One shoes.
Clifton 9:
- Breathable mesh upper
- Meta-Rocker for smooth and fluid movement
- Compressed EVA foam midsole for HOKA® cushioning
- Extended and reinforced heel for more support and easy fit
- More cushioning material compared to previous models
About the brand Hoka One One
The French brand Hoka One One was born in the minds of two sports enthusiasts, Jean-Luc Diard and Nicolas Mermoud. Both are lovers of adventure and running. They have extensive experience with various running routes around the world. Both founders acknowledge the idea that a runner should feel free, whether he is running in nature or in the city. Fatigue, muscle tension and problems associated with this, runners solve every day. Jean-Luc and Nicolas started working on a shoe that would largely eliminate these problems and the pleasure of running could be unlimited.
Hoka produces both low-profile and max-cushion shoes for road, trail, and all-terrain; throughout its product line, Hoka shoes retain features like a low weight-to-cushion ratio and midsole and outsole geometry designed to promote inherent stability and an efficient stride.
| | |
| --- | --- |
| Manufacturer | Hoka One One |
| colour | navy |
| surface | asphalt |
| grip | 2 mm |
| volume of outsole | ultrasize |
| drop | 5 mm |
| country of origin | Vietnam |
| distance | medium |
| gender | men |
| performance | lightweight training |
Reviews
Product articles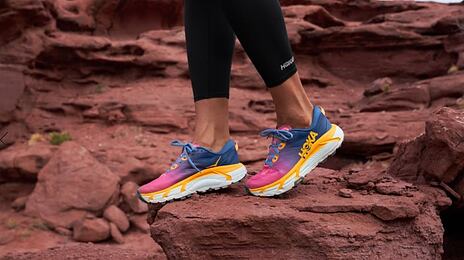 Blog
What to look for when choosing running shoes? In this article, you will learn what types there are and what role the parameters of your foot play in choosing running shoes.
Entire article
Delivery to all EU countries
One of the Czech largest e-shops
Special training equipment