Challenger ATR 7 W women's shoes WMCY
Challenger ATR 7 W women's shoes WMCY
Versatile shoes for running both on roads and paved paths, as well as in light terrain.
Read more
Color variants
Product description
Street-approved. Trail tested. Built at the intersection of road and trail, the new Challenger 7 has been completely reimagined from the ground up. Combining a simplified mesh upper with a soft new foam, we've increased the stack height for a plusher feel and added proprietary rubber to the bottom unit, along with a reimagined outsole design for the best all-terrain ride yet. Inspired by gravel tires, we've cued up smaller, tightly spaced lugs in center and larger, more aggressive lugs at the perimeter designed for improved traction on uneven terrain.
About the brand Hoka One One
The French brand Hoka One One was born in the minds of two sports enthusiasts, Jean-Luc Diard and Nicolas Mermoud. Both are lovers of adventure and running. They have extensive experience with various running routes around the world. Both founders acknowledge the idea that a runner should feel free, whether he is running in nature or in the city. Fatigue, muscle tension and problems associated with this, runners solve every day. Jean-Luc and Nicolas started working on a shoe that would largely eliminate these problems and the pleasure of running could be unlimited.
Hoka produces both low-profile and max-cushion shoes for road, trail, and all-terrain; throughout its product line, Hoka shoes retain features like a low weight-to-cushion ratio and midsole and outsole geometry designed to promote inherent stability and an efficient stride.
| | |
| --- | --- |
| Manufacturer | Hoka One One |
| colour | blue-orange |
| surface | universal |
| grip | 4 mm |
| volume of outsole | oversize |
| drop | 5 mm |
| country of origin | Vietnam |
| distance | medium |
| gender | women |
| performance | normal training |
Reviews
Product articles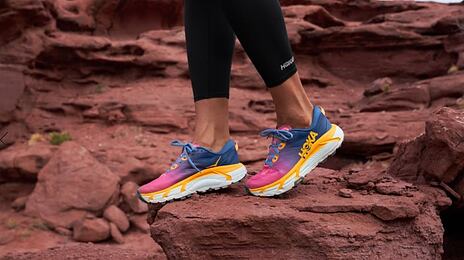 Blog
What to look for when choosing running shoes? In this article, you will learn what types there are and what role the parameters of your foot play in choosing running shoes.
Entire article
Delivery to all EU countries
One of the Czech largest e-shops
Special training equipment