Bondi 7 W women's shoes CCSD
Bondi 7 W women's shoes CCSD
Road shoe with maximum ultrasize cushioning, designed for regular training and demanding runners.
Read more
Barevné varianty
Product description
If you are looking for road shoes with excelent cushion ability to damp each of your step and save feet as effectively as possible, then the HOKA ONE ONE® Bondi series is designed just for you. The Bondi 7 W is a great choice for long distance running on hard surfaces. Bondi have gained popularity among top runners around the world due to low weight (240 g, size UK 5) and exceptional ultrasize cushioning as well. Its midsole features heel to toe drop of 4 mm. There is 27 mm toe layer and 31 mm thick heel layer of the cushioning material. The combination of the high volume and low weight is possible due to modern technology Meta-Rocker and compressed EVA foam that capable to keep stable own original shape for a long time. The shoe upper is made of breathable and seamless synthetic fabric with vents for improved breathability. The shoe outsole is designed with strategically placed rubber zones to reduce overal weight and improve durability. The Bondi 7 W belongs among the best road running shoes ever.
Bondi 7 W:
- Meta-Rocker - midsole profile
- Drop 4 mm, toe: 27 mm, heel: 31 mm
- Compressed EVA midsole
- Breathable upper
- Strategically rubbered outsole
O značce Hoka One One
The French brand Hoka One One was born in the minds of two sports enthusiasts, Jean-Luc Diard and Nicolas Mermoud. Both are lovers of adventure and running. They have extensive experience with various running routes around the world. Both founders acknowledge the idea that a runner should feel free, whether he is running in nature or in the city. Fatigue, muscle tension and problems associated with this, runners solve every day. Jean-Luc and Nicolas started working on a shoe that would largely eliminate these problems and the pleasure of running could be unlimited.
Hoka produces both low-profile and max-cushion shoes for road, trail, and all-terrain; throughout its product line, Hoka shoes retain features like a low weight-to-cushion ratio and midsole and outsole geometry designed to promote inherent stability and an efficient stride.
| | |
| --- | --- |
| Manufacturer | Hoka One One |
| colour | salmon |
| surface | asphalt |
| grip | 2 mm |
| volume of outsole | ultrasize |
| drop | 4 mm |
| country of origin | Vietnam |
| distance | long |
| gender | women |
| performance | intensive training |
Reviews
Články k produktu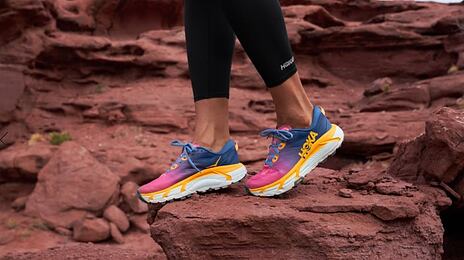 Blog
What to look for when choosing running shoes? In this article, you will learn what types there are and what role the parameters of your foot play in choosing running shoes.
Celý článek
Delivery to all EU countries
One of the Czech largest e-shops
Special training equipment